1
Just released 256boss v0.1: a USB-bootable operating system for running 256byte intros on real hardware (as opposed to dosbox) without having to install DOS. Just install onto a USB stick, copy 256b intros into it, and reboot.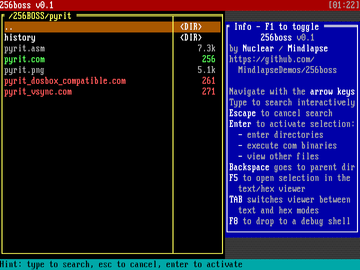 web:
http://nuclear.mutantstargoat.com/sw/256boss
github:
https://github.com/MindlapseDemos/256boss
Comes with instructions on how to install to a USB stick for windows and GNU/Linux, and the disk image includes a bunch of 256byte intros to try out.
This is still release 0.1, and some 256byte intros fail to run properly for a number of reasons, including calling un-implemented DOS calls, so there is more that need to be done. I just wanted to get this first version out of the door. It runs a good number of 256b intros you throw at it, and wanted to gauge if there's interest from the community to continue improving it.
If you find something that fails to run on 256boss, even if it's not strictly a 256byte intro (but COM executables only for now), please open an issue on github, and I'll try to make it work as free time allows. Also patches/pull-requests are certainly appreciated.